All Hell Breaks Out In Hades: Satan And Stephen Hawking Fiery Exchange Over "Smartest Man" Title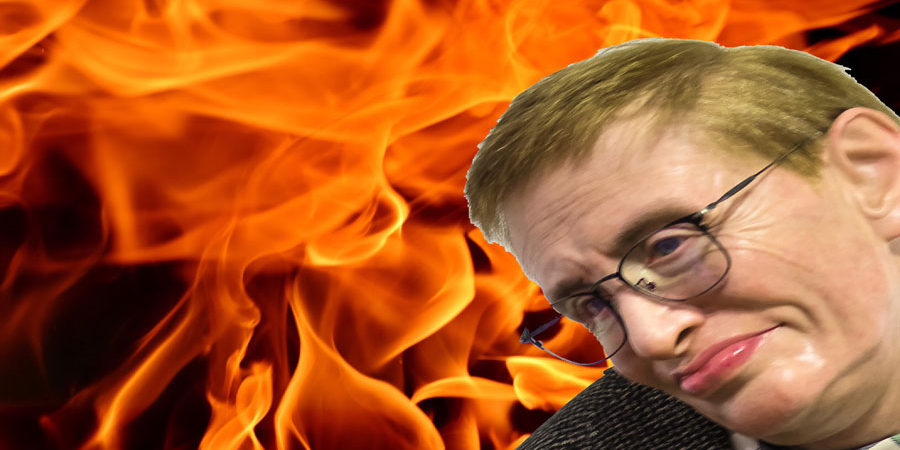 All Hell Breaks Out In Hades: Satan And Stephen Hawking Fiery Exchange Over "Smartest Man" Title
SHEOL, ETERNITY—Only 5 months after famed atheist and theoretical physicist Stephen Hawking entered Sheol, he is already causing Satan to see red.
In a heated exchange, both could be overheard arguing over which had the title "Smartest Man In The World." Those nearby stated that Hawking had commented on the "paralysis of the intellect" in hell, a comment noticeably raising Satan's ire. The former atheist continued his rant asking "how can the smartest man in the world exist in a hellhole like this?" At this the ruler of Hell and Mr. Hawking began bickering over the title which quickly escalated to an all-out altercation.
After some debate, at which Satan did outwit the young hell resident, the devil said to Mr. Hawking "I am both smarter and stronger than you. I know things that you cannot imagine. But I am not a man, but an angel." At this Hawking smirked and said that "angels and religion are for those scared of the dark."
As Satan's figurative blood began to boil, he flew off while intentionally striking Mr. Hawking with one of his wings. Later on, acquaintances reported that the ancient serpent commented that he was astounded by the scientist's stubbornness even in eternity. He also expressed plans to "ease up" on creating such "ridiculous attitudes" in future Dark Kingdom entrants.
Coming soon: An Exclusive Interview with Margaret Sanger